Post by Michael Crowe on Nov 6, 2013 1:26:10 GMT -5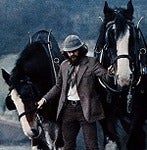 Ok, so Halloween is over and there's still waxy pumpkins hanging around. Before Halloween, they were awesome (according to Griff), now they're like these pesky things we can't get rid of.
I really hate when people make really for real gross food for Halloween. Like..."Oh, so let's be spooky and scary like a horror movie and cut up hot dogs the long way and call them worms, let's make this cheese platter look like a severed head, and this fruit tray look like splattered brains."
I just can't handle it, it's horrifying and I'm easily nauseated. I went to a party when I was pregnant with Finn on Halloween and it was all like that and I couldn't eat.
Ugh. That holiday is over, let's move on. What is on the menu for Thanksgiving? Turkey? In not-burger form?
Yeah, Boston Strong!
See, this is how I know there is a devil. Fried - well, that's mortal sin right there, then the Milky Way - that's bad plus tax. I ask you, why isn't boiled tofu bad? Because it's nasty that's why. If it's good, its bad. Boiled good, fried bad, tofu good, Milky Way bad. Might as well eat, drink and be heavy I say. I mean, to hear the experts, eating causes heart disease and breathing causes cancer. My hundred year old grandmother ate lard every day. I think we've been sold a bill of bads... I digress. Where were we?
We just can't squeeze enough gross out of waxy pumpkings and candy corn. It's an infestation of the season. I hope Thanksgiving food is better recieved here. But then I've already run down the turkey. Oh yeah, the spagehtti that looks like brains. I really don't get that, but then I've never found gory to be entertaining. I've seen too much of the real thing I guess. I mean, I've castrated calves. Can I say that here? Poor Momfairy. Not a good season to be with child. Especially if you happen to see Rosemary's Baby about that time. Yes, let's move on ..
Thanksgiving? Ham. I never eat turkey voluntarily. Ham is the official meat of the official holiday eating season here. I will only eat the bird if I'm served it by a hoast. Then I will partake and "enjoy." We do ham here, baked ham, all night baked ham, slow cook, with pineapple rings and Karo syrup, or sometime redeye gravy which is made from coffee. Not sure about the rest of the menu. Probably sweet potato with brown sugar, deviled eggs, squash and corn cassarols and the like. I have some Amish rattlesnake green beans in the freezer. Might go there. Gotta have the peach cobbler and homemade ice cream. And sweet tea of course, with a squeeze of lemon or peach tea. I think half a good cigar and a little brandy might chase that on a good day. But then my birthday is on the Tuesday before so that might be a conflict. Wife usually cooks me Chicken and dumplings and pinto beans on my birthday with chocolate pie as the chaser so I'll probably have to make a decision on one or the other. Oh the humanity! Yeah, when you get old it's all about the food. So what's on your menu? And don't say turkey .....
Boston Red Sox? Okay, I can live with it. But I don't have to like it.