Post by Michael Crowe on Jan 25, 2015 2:50:03 GMT -5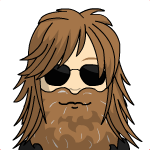 Pegg played with Fairport before he played with Tull and chose to quit Tull and remain with Fairport - Barlow went on to play with Ingwie Malmsteen, Robert Plant, Jimmy Page (heard of them?) and others. Martin is still playing Tull music. Well, so is Ian. Martin has the same right to do so as he contributed to 99% of the material for some forty-three or so years. I would also put forth the idea that a "masterpiece" is a subjective rating. Ian hasn't put out a masterpiece yet in my opinion, but Tull have, and Martin and Barlow were on those. And how do know the others can't create a masterpiece? They spent most of their time helping Ian create a couple of Tull masterpieces so we don't know, unless one would say Martin or Pegg already have. It's subjective. And finally, how many top ten albums has IA had? What kind of solo career would he have had without the name Jethro Tull backing his every career move. How much success has he had apart from having Martin at his side? Would he have made an impact based on his first album Walk Into Light had he been an unknown? And just because some of the others have quit and IA continued says as much for IA's drive and personality as talent. Every former musician who is still playing is certainly better at what they do now than IA is a singer. Perhaps IA should have quit at the same time some of the others did. I liked IA's last album but his live vocals are at the point of embarrassement. Having heard a Barlow solo a couple years ago, that certainly isn't the case with him.
Michael Crow my own my! Why do you go on about this so! Let's see, Ian has written several hundred songs and you must say at least 100 of them are amazing!
The total of 28 or so tall musicians have contributed what three or four songs to the Tullrepertoire ? Let's see what else comes to mind? Ian plays the flute and the acoustic guitar and oh yeah that's right his voice is on 95% of all the songs plus another odd assortment of instruments including the saxophone and mandolin occasionally.Martin basically plays the guitar and whoever the other three are depending upon the year basically contribute three other instruments to the mix. So Ian to almost every song for over 45 years contributes the songwriting plus 3 of the major instruments, voice, flute and guitar. and all the other musicians combined who happened to be in Tulland any given moment contribute four parts more or less. Martin even said that The arrangements he has done he basically did what any guitarist should do for the band they are in and occasionally wrote musical parts that we were a bit more than arranging, and that was part of what he is paid for. I can't imagine where u are coming from. I do agreewith you in one aspect though. It does seem that Ian does not have a good way with his fellow musicians sometimes. But that's kind of out of my realm of expertise. You have to really be close to the band to really know what's going on there
Lol! Well, actually, I'm a litigator by nature and have been accused by family and friends as often arguing a case for the defense - usually the underdog, and usually sports or politics, just for the fun of it. So I come in for a season and spout and leave for a few weeks. Thing is I have never taken entertainment fodder such as this too seriously and will on ocassion have a bit of fun. There are those that do take it seriously and that's fine, but I really don't give a rat's to be honest. But I do stick with my original stance that the band members should be shown some respect at the end of the day because we don't really know what Tull would have accomplished had Martin, Evan or Barlow not been on the scene. Somebody here just made the statement that musicians and singers are easy to find, and if you are Garth Brooks stumbling around in Nashville that is probably true, but if you're Led Zep then that doesn't apply. For bands like Zep, The Who, Stones and 70s Tull it was about the chemistry. Jeff Hammond had an enormous impact on the theatrical and artsy side of Tull during his tenure, which just happened to be the band's peak period. ... And by the way, your post is full of holes, but I've grown tired of this thread and will let you have the last of it. You may take the ribbon.